June 2021
---
Florals, wildlife, and landscape paintings have been added to the gallery. Full-size gallery-wrap canvas prints of my painting "Change of Season" are now available (30 x 15″ ready to hang). This fine art image is so versatile–both warm and cool, natural yet sophisticated, mountain or modern all at once. Same process as described for my waterfall prints in a previous post.  Very pleased with how these turned out!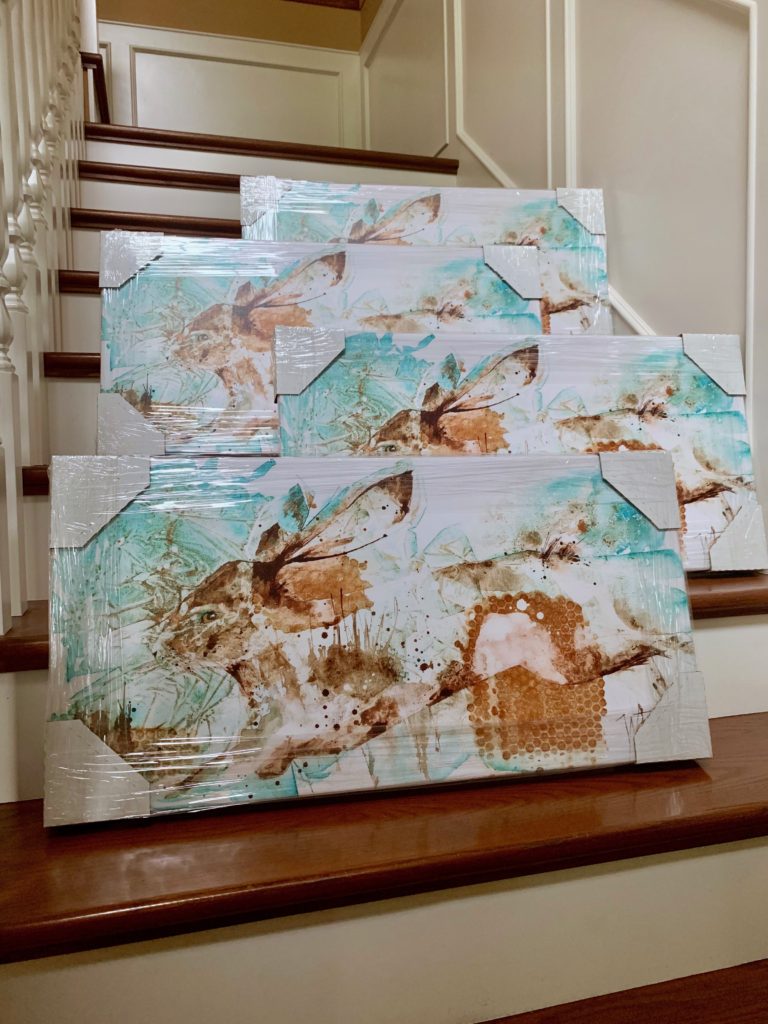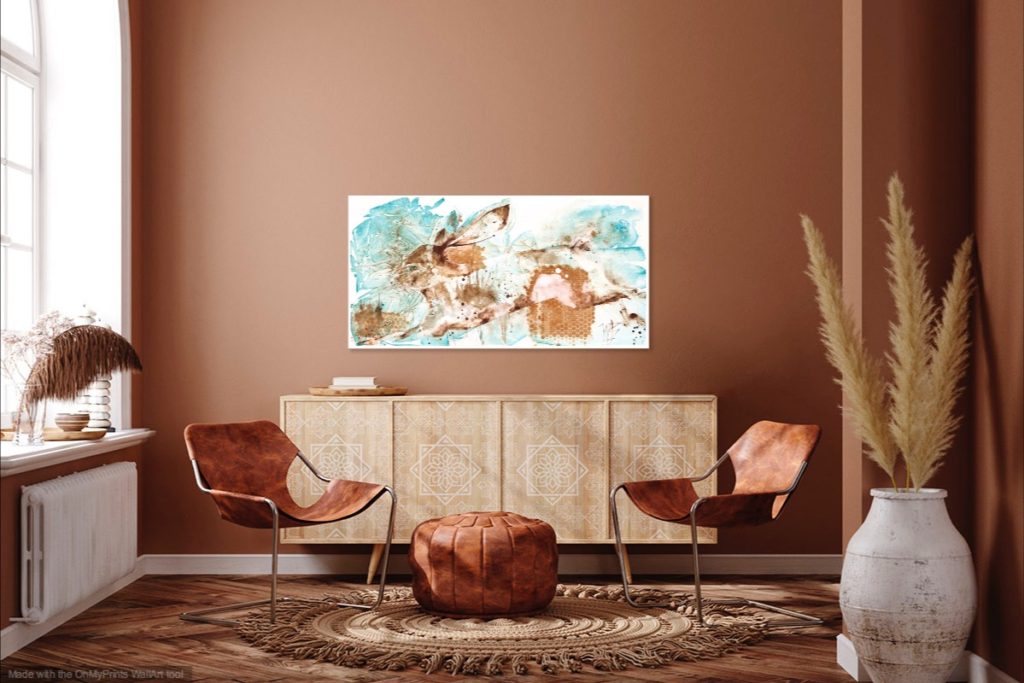 January 2021
---
I've finished a number of exciting paintings (landscape, wildlife, florals) and have been in some great juried exhibitions in the past year–please check out my gallery and exhibitions tabs.  I update information on my Facebook artist page on a frequent basis–it has proven highly effective.   See the latest news below:
---
NEW: Premium Waterfall Canvas Prints
Initiated by a collector's request, I'm thrilled to introduce "the next best thing" to owning my waterfall painting featured below: an affordable canvas print well suited to most any decor: modern, traditional, mountain, rustic.
Inspired by a trip to Maligne Canyon in Jasper National Park, "Waterfall #1 – Dreaming of Jasper" was my first waterfall painting and remains my favourite. It's been featured in a juried North American art exhibition (Stampede Western Showcase 2018) and I have received many purchase requests. As I have decided to keep the original for my personal collection, I'm now pleased to offer this beautiful full-size (30 x 15″) reproduction on gallery-wrap canvas. The process to get this result was first rate and I'm confident that this is the most exact, highest quality of reproduction available on the market. I've included "the story" in the details along with each photo below.  Interested? Please e-mail me for pricing (use contact form or [email protected]).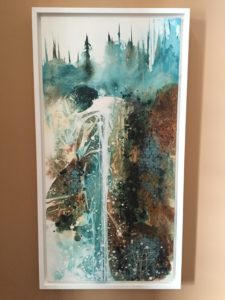 The original painting as I have it float-framed and hanging in my home:
Waterfall #1 – Dreaming of Jasper
30 x 15″ acrylic on gallery-wrap canvas
The profile and matte sheen of the original–the work has the look and feel of a watercolour/watermedia so a non-reflective, paper-like finish suits it best.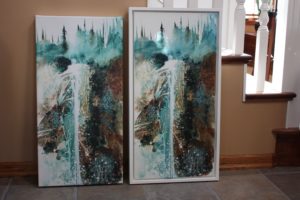 The reproduction (left). I took the painting in to Calgary's Resolve Photo for a photography session with a special camera and controlled-lighting studio. A test print on canvas was provided. We then spent half an hour micro-adjusting settings/levels/colours/definition in Photoshop. The resulting image file contained a whopping 2 gigabytes of data.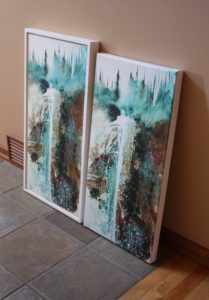 Another view without a window glare on the original. There are multiple options for the side colour of the canvas. I chose white and plan to float frame it in the same way as the original, however no frame is required–these come ready to hang on your wall.
The matte finish of the print matches the original as closely as possible. This top treatment protects against dust, dirt, and UV damage.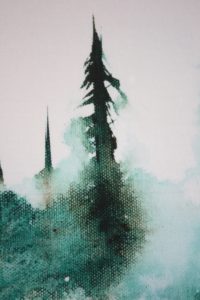 A close-up detail of the print–which is made using the highest quality archival pigment inks printed directly onto archival canvas. The quality initial photograph, the process, and the materials capture every fibre of nuanced detail from the original.
January 2020
---
NEW for the New Year:


I've recently published my Facebook artist page. There, I hope to connect with those who enjoy my work, feature select paintings, exhibitions, and promotions, and to provide a more personal look at my process and inspirations.  This is where I first feature new paintings.  It will serve a separate purpose (and does not replace) my website or on-line gallery and information.
If you're on Facebook I hope to have your support and see you there–thank you!
https://www.facebook.com/wendyborglumartist/
November 2019
---
My Aspens in White cards (blank inside) are available through private sale and at the Leighton Art Centre this season.  These are premium product 5 x 7″ art photography cards professionally printed on the most luxurious stock; many like to display these in addition to giving them away, so I framed a few for tabletop enjoyment/purchase. Due to the demand last year they are now also available in boxed sets of six.
This image lends itself to modern, traditional, or rustic settings and was featured in the provincial juried "Forest Show" in a larger format.   These are going fast at the Leighton so a restock may be in order!
Use the contact form on my website if you'd like a quote for a custom amount.
September 2019
---
Excited to be a part of Earth.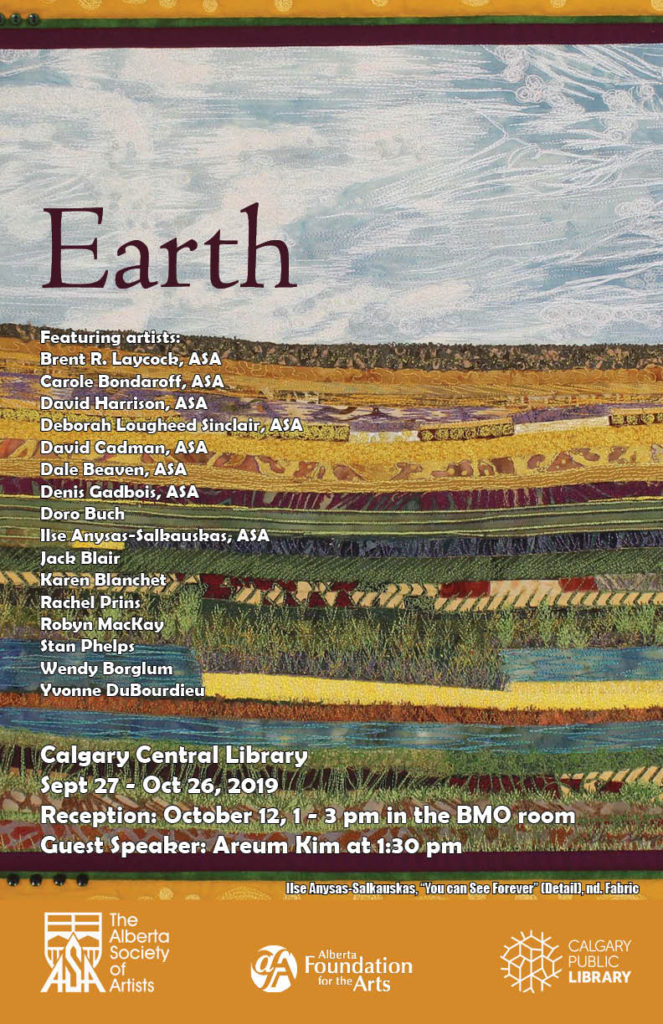 This year-long provincial travelling art exhibition begins at the spectacular new Calgary Central Library during Alberta Culture Days, September 27-29,  2019.  It will be up at this location through October 26.
The Alberta Society of Artists invited all artists throughout the province to submit up to two works, for consideration by jury, to this show; I'm very pleased to have two paintings chosen.
One of the paintings selected was Dawn of Spring–one of my newest (sale pending):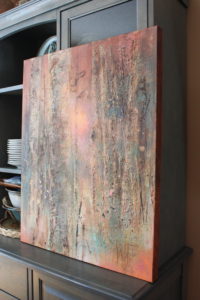 Calgary's new Central Library is an architectural masterpiece that was named one of the world's 12 most anticipated buildings in 2018 by Architectural Digest, and named one of the world's 100 greatest places in 2019 by Time magazine.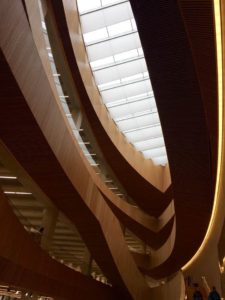 April 2019
---
My new owl painting was one of 60 works selected by jury from over 450 entries (all created in the last year).  Available for purchase.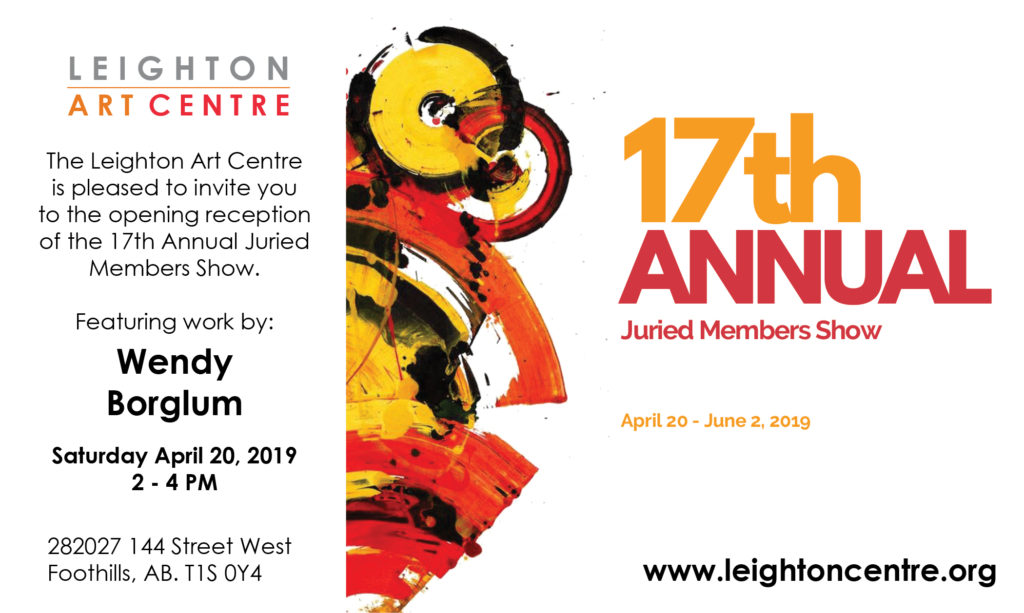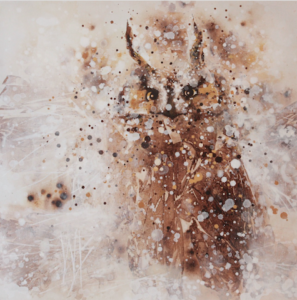 Long-eared Owl–Winter Roost
20 x 20″ plus rustic wood frame
acrylic on gallery-wrap canvas
~also~
I've added new work to the landscapes and wildlife painting gallery on my website.  I'm particularly excited about Dawn of Spring and looking forward to creating a forest scene for each season: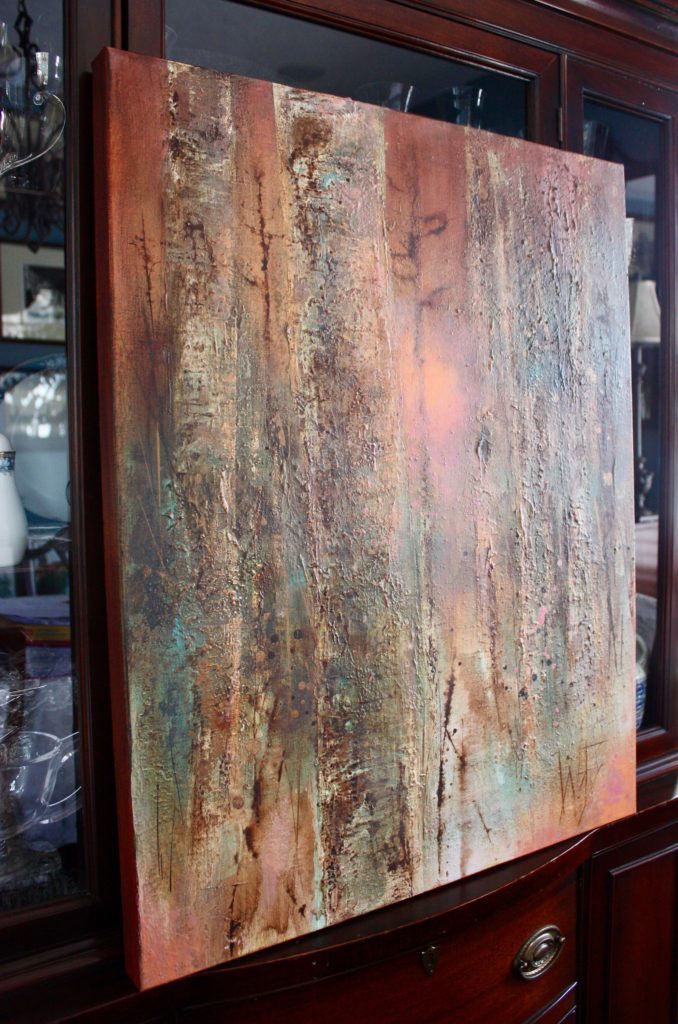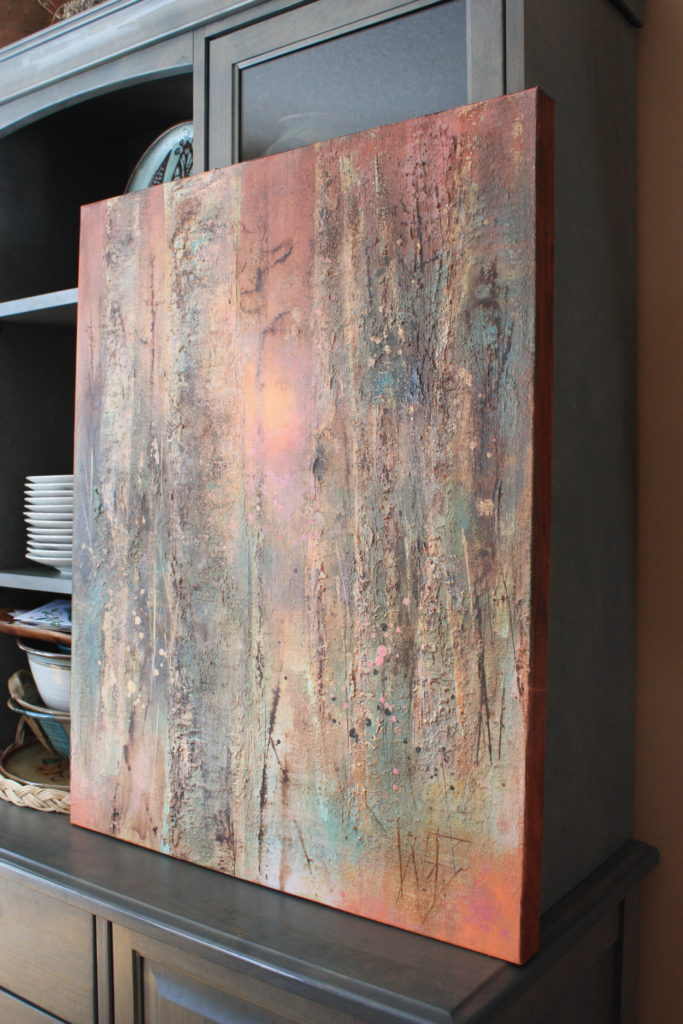 Holidays 2018
---
I'm proud to have one of my poinsettia paintings on display and available for purchase  at Divine Creations in Aspen Landing–
Calgary's most elegant flower and gift shop.   The perfect mutual Christmas gift or collective gift for that special person–a flower that can be treasured for generations.
www.divinecreationsyyc.ca
Also on Facebook.
Poinsettia – Painted Lady
15 x 30″
acrylic on gallery-wrap canvas (no framing required)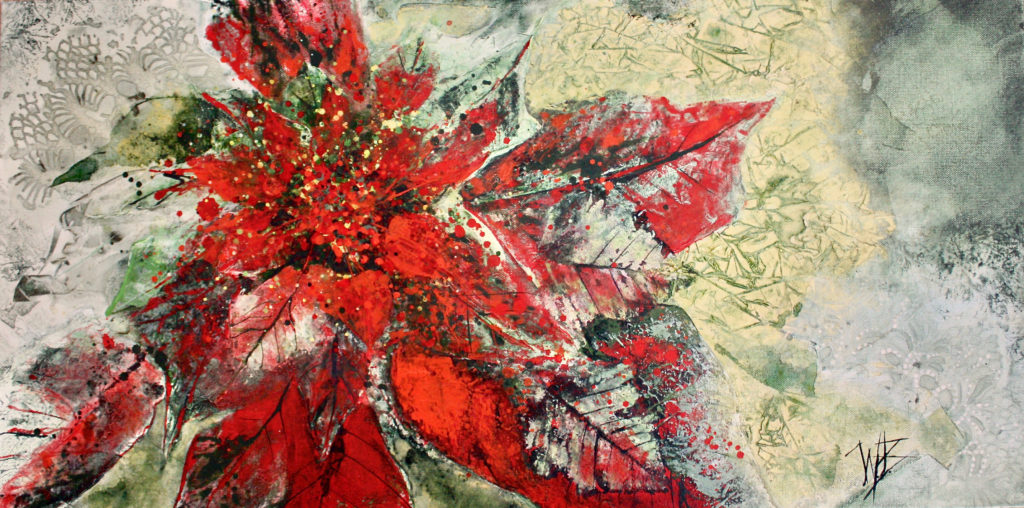 July 2, 2018
---
Today I put the finishing touch of frames on two of my three paintings selected for the Calgary Stampede Western Showcase Art Gallery (and delivered them).  It has been real honour to discover that one of my paintings (Waterfall #2: Dreaming of Jasper) is being used to promote and represent the entire Stampede Art and Lifestyle Show in magazines, tickets, etc.  I've included a few images below.  I really value the exposure and that my work was selected amidst all the possibilities.  It has been quite a busy and exciting time between that and helping our daughter, Erika (15), to prepare for her (by audition) Stampede Talent Search singing performance of "Hallelujah" by Leonard Cohen, and also for her first "gig" of 3-4 songs at the Western Oasis–the very same location as the art show.  It's shaping up to be a landmark summer!
L to R:
Change of Season, 15 x 30″
Waterfall #1: Dreaming of Jasper, 30 x 15″
Waterfall #2: Dreaming of Jasper, 30 x 15″
all acrylic on gallery-wrap canvas
Full-page advertisement in the Western Art and Architecture magazine
Advertisement in Calgary's Avenue magazine
promotional tickets using my artwork
2018 selected artist listing and links at www.western showcase.com (from the Art Gallery header at the left of that page, select Gallery Artists)
April 9, 2018
---
Late winter through early spring has proven to be a very exciting time: I was selected by jury as a featured artist for the 2018 Calgary Stampede Western Showcase Art Gallery (three of my paintings selected), got my first art cards printed, and finished two well-received paintings.  I'll be writing about all of these in the coming weeks but first up–the cards.
I had my photograph "Aspens in White" professionally printed as 5 x 7″ cards on snow white, premium 100lb paper (the highest quality available at the printer). Upgraded the envelopes too and finished off in a clear protective sleeve. Blank inside.  Currently available for purchase at the Leighton Art Centre and privately: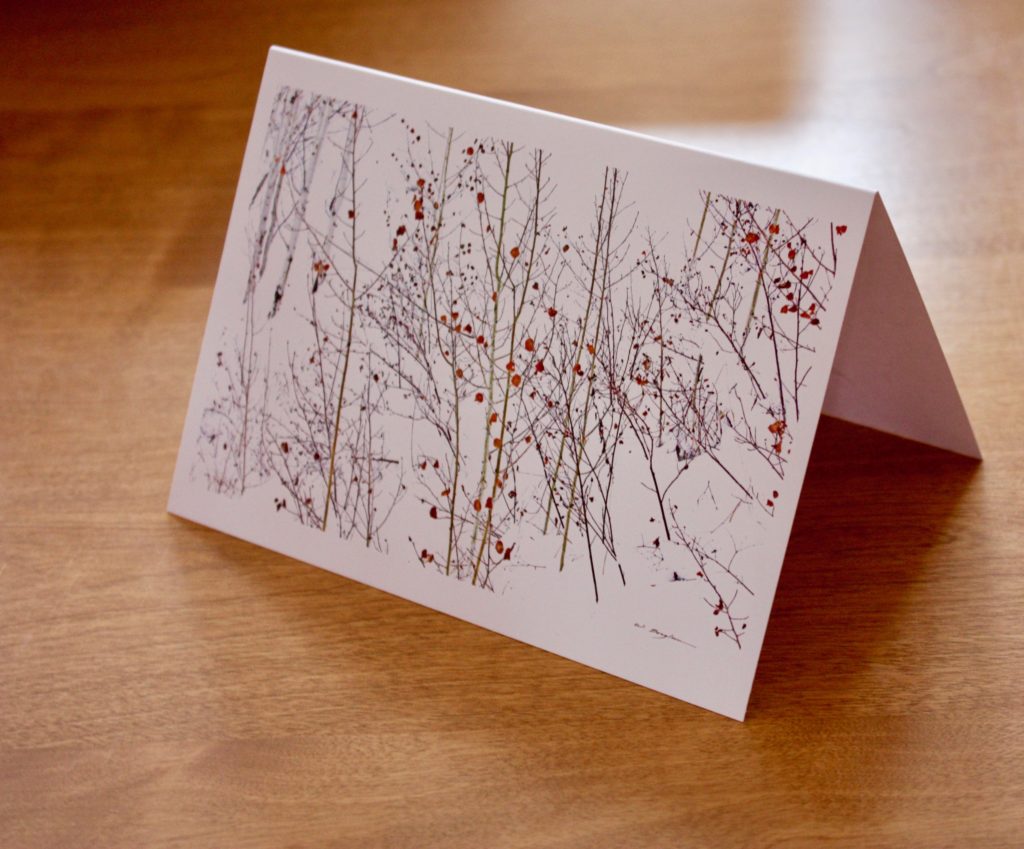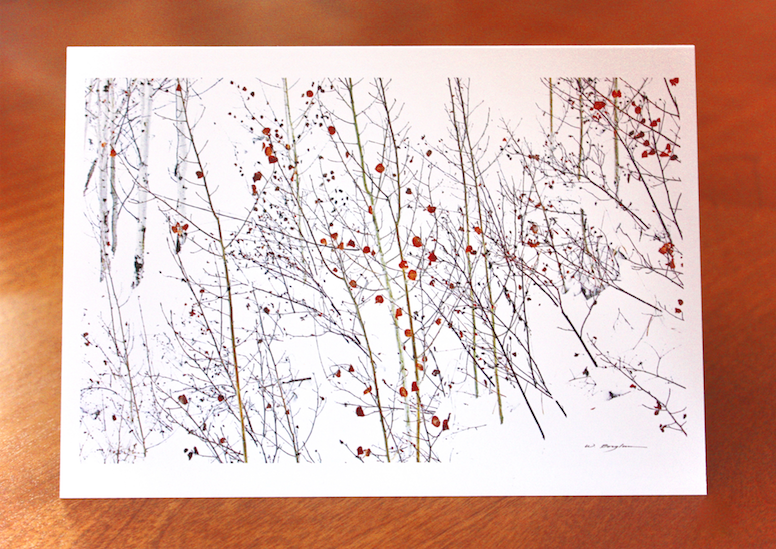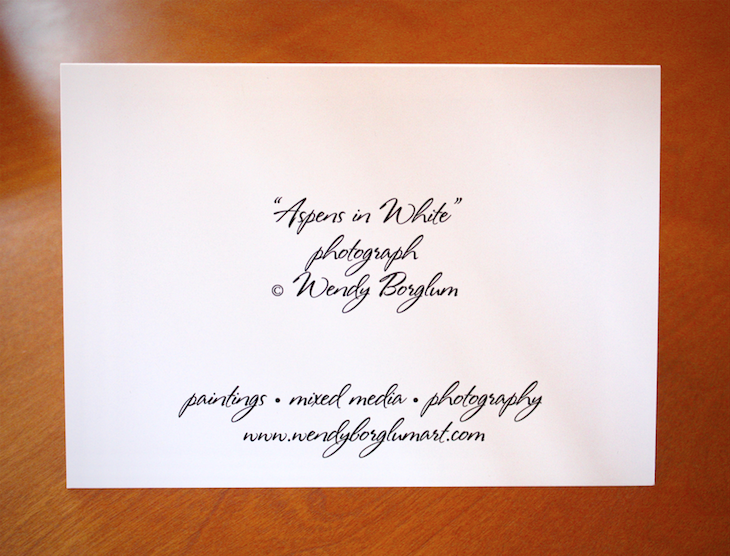 History: "Aspens in White" made its first appearance in 2011 (as a 16 x 20) at The Forest Show–a province-wide traveling exhibition sponsored by the Alberta Society of Artists. This was an open juried competition to which all Alberta artists could apply. They received over 400 entries and selected 50; of those, only three were photographs. The show went on for six months travelling to four locations in the province. In Edmonton and Calgary it was featured at McMullen Gallery and Leighton Art Centre. The works selected for the show were also featured in a beautiful exhibition catalogue.
December 6, 2017
---
I've been busy creating art this year and am finally getting back to the website/updating.  I'm pleased to have created many of my best paintings in the last couple of years–from florals to landscapes to wildlife.  Currently my focus is on building a cohesive body of work to promote as a grouping.  My goals have included teaching myself to paint landscapes and various wildlife and the improvement from one work to the next has been exponential.  I'll be adding about seven paintings to the site over the next week (under the gallery in landscapes/wildlife, and abstract) and will feature a few here.
May 8, 2017
---
I'm proud to have my work selected again for the annual Leighton Art Centre and Museum's Juried Members' Show.  This show highlights "the best of the best" work of the Leighton artists as determined by a jury panel (this year 60 artists selected from the 110 who submitted three works each).   The show opened May 6 on a beautiful warm afternoon, to over 212 visitors in two hours!
I'm in excellent company–where else do you find Leighton centre member artists–locally at galleries in Banff (including the Whyte museum and Fairmont galleries), Canmore, and Calgary (including the Stampede art show and auction); in regional and national juried exhibitions; in the collections of corporations and universities; and on the walls of private individuals all over the world.  All art is available for purchase, and the show runs until June 18.  Please see website for hours and directions.
www.leightoncentre.org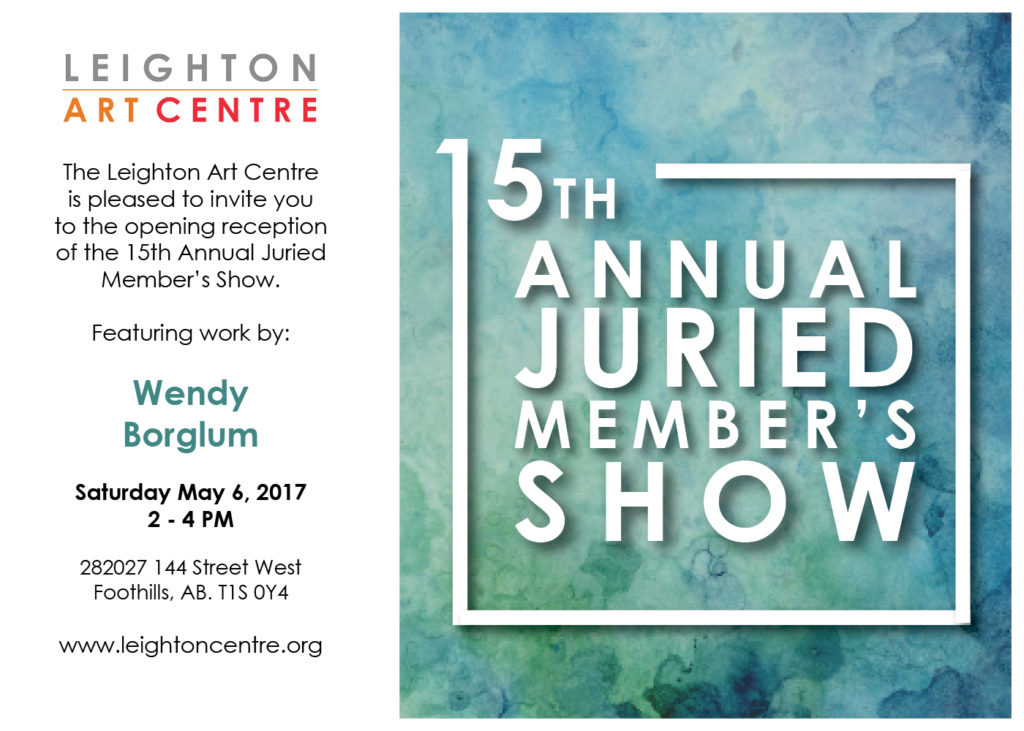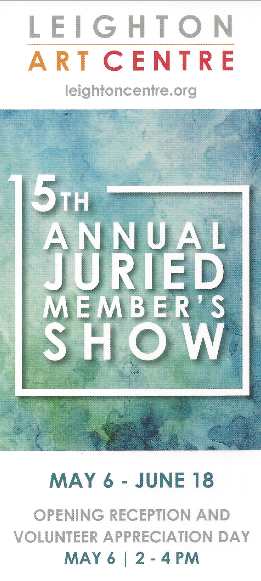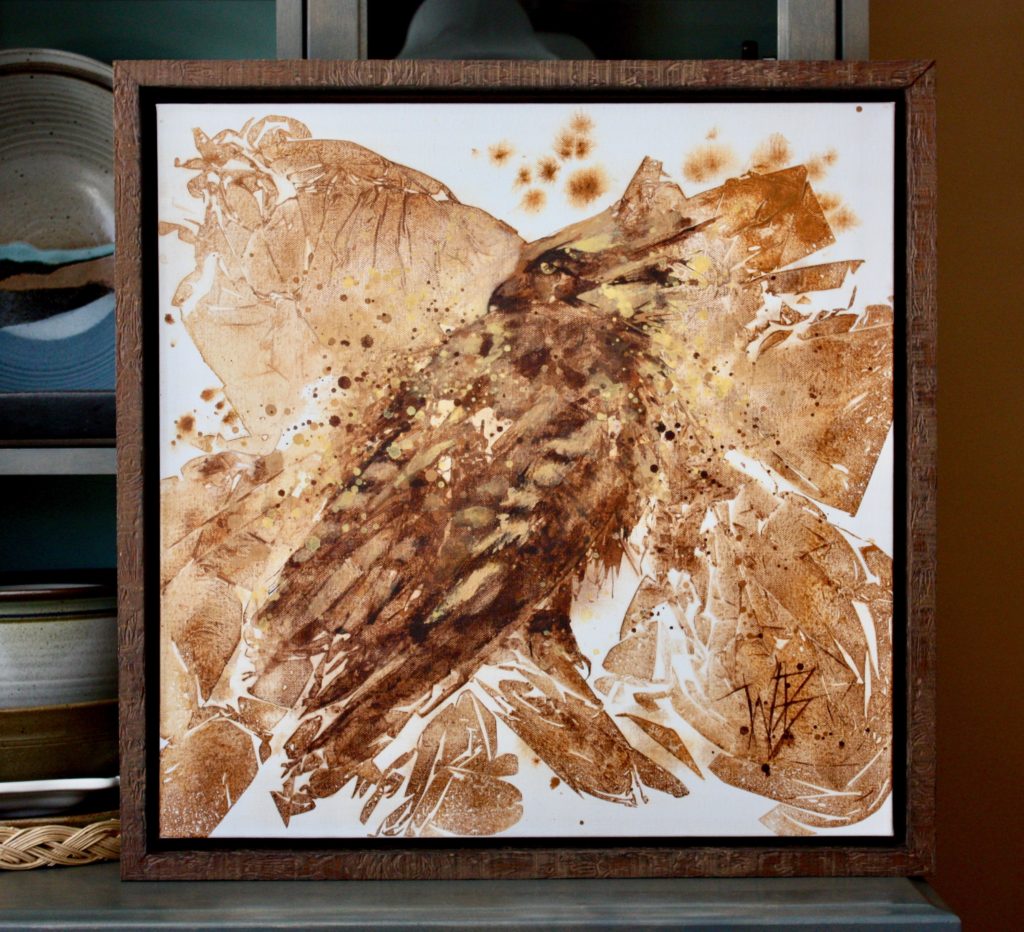 Mountain Mystic
acrylic on gallery-wrap canvas, as framed for the show
about 22 x 22″ framed
It has been enlightening/surprising for me to discover all the different things people are seeing in this work–which I finished in late
November 2016.  It was inspired by a hawk that I photographed on our property: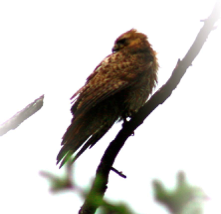 I have finished several other paintings since this time and will
gradually add them to the website.  As ever, with limited time available my primary focus is on creating the art–not the promotion.
November 8,  2016
---
I've worked on six paintings since May: two abstracts on new-to-me supports that I'm not convinced are quite finished; a landscape and a floral I'm keeping as colour and design references/considering studies for future works; and two florals (including Violaceous–the featured work on my home page) that I've recently delivered, along with 11 other works, to the Leighton Art Centre.
The Leighton hosts the annual Christmas in the Country Art Sale. The event is longstanding and the biggest in the Calgary region for *living, local* artists.  It's a great opportunity to see a number of my works in person and to purchase unframed before December.    Information below.  Please note days and hours of operation.  Also, all the art bins involved in this sale are available to view during the week and will be out until Nov. 26.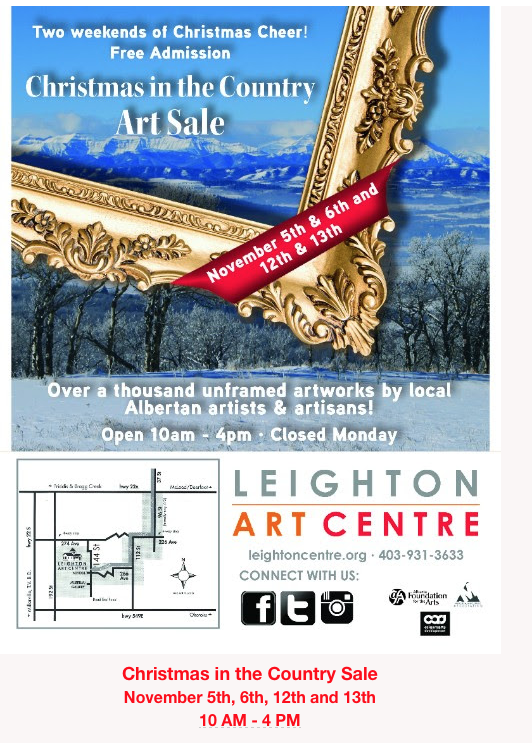 Aside from packaging and preparing work for that sale, I've painted colour swatches and gathered my reference materials for several more paintings–one landscape and two or three wildlife–I often think about what I'm going to do long before I get to it at this point in my family life.
Creative endeavours with the new school year also include being the new volunteer editor for a monthly school newsletter.  I saw the opportunity to expand its scope and size–a redesign, the addition of photography, colour, visual interest….That, along with the opportunity to also use my English degree and work experience for editing, wordsmithing, organizing, headlines….it's a satisfying and unique way for me to give back.
May 11, 2016
---
A few pictures from the wonderful Leighton art show opening on Sat. May 7–the gallery/museum exterior, the 80-acre grounds with spectacular views, and my work as framed.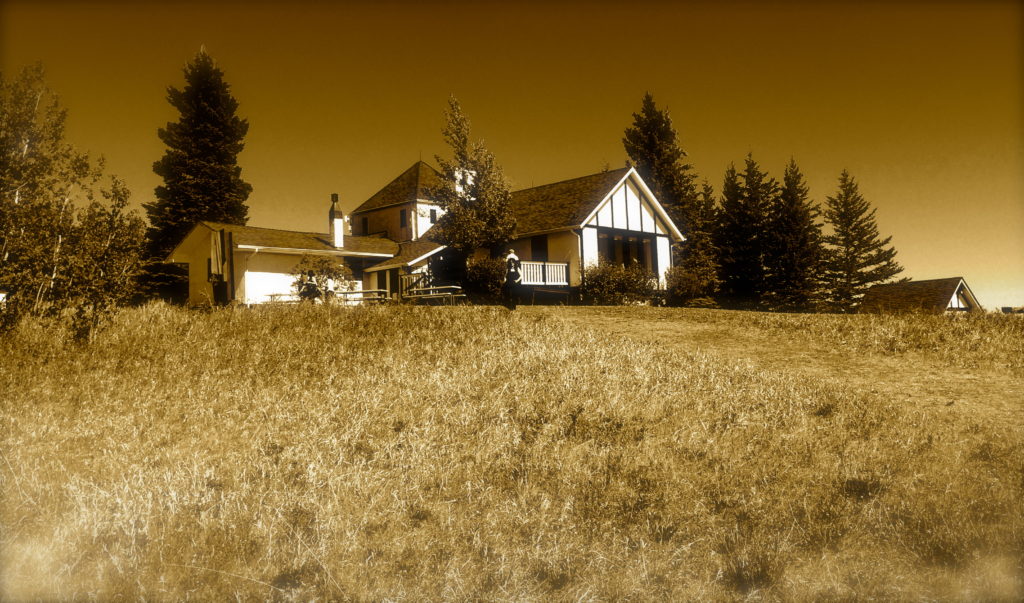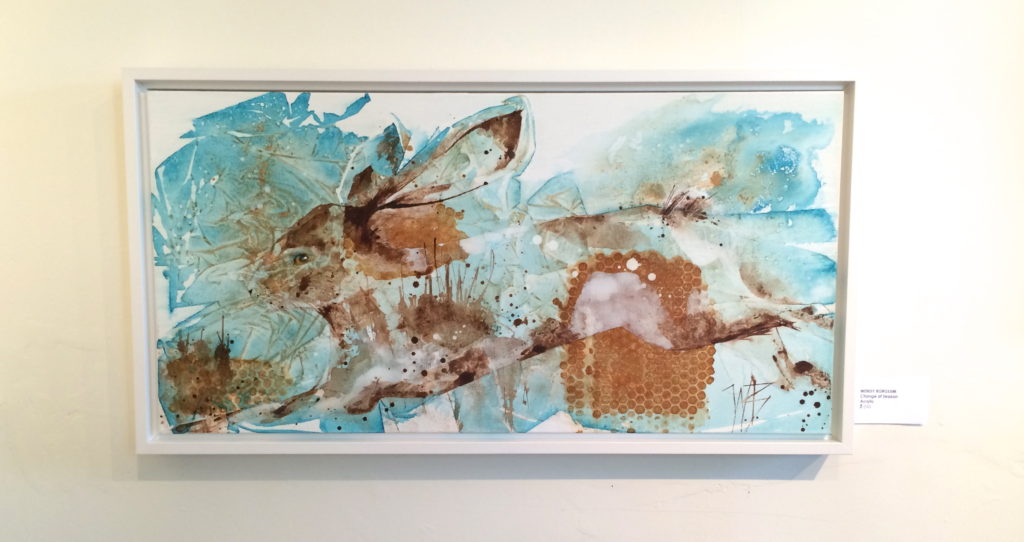 Change of Season
acrylic on gallery-wrap canvas, framed
15 x 30″
May 4, 2016
---
It's exciting and rewarding to have my work featured on social media in the promotion of the Leighton show–really looking forward to it.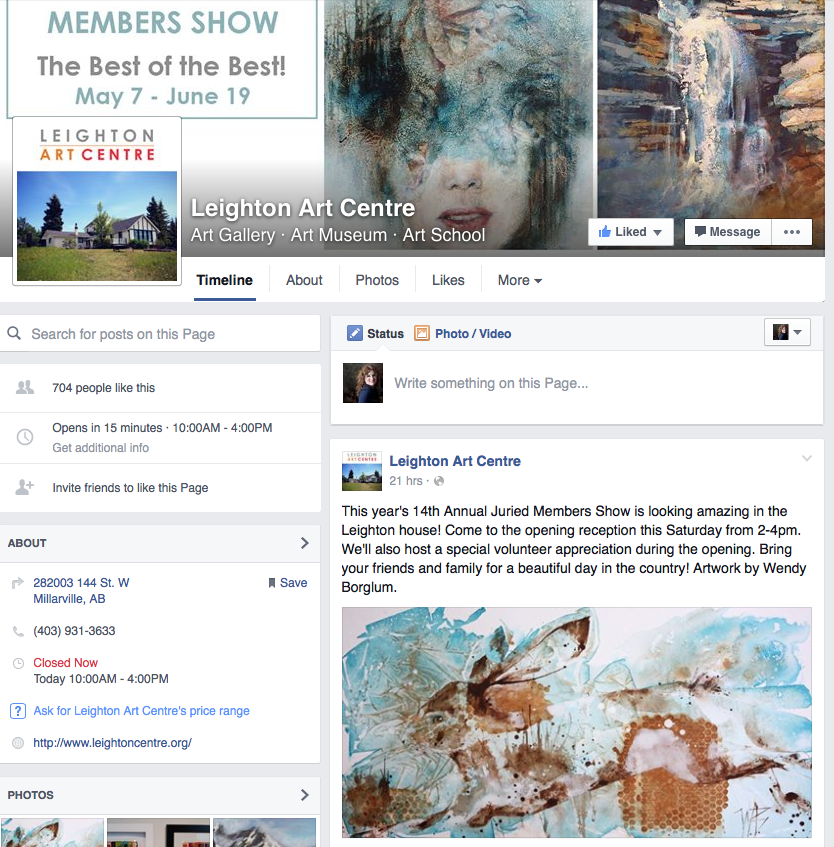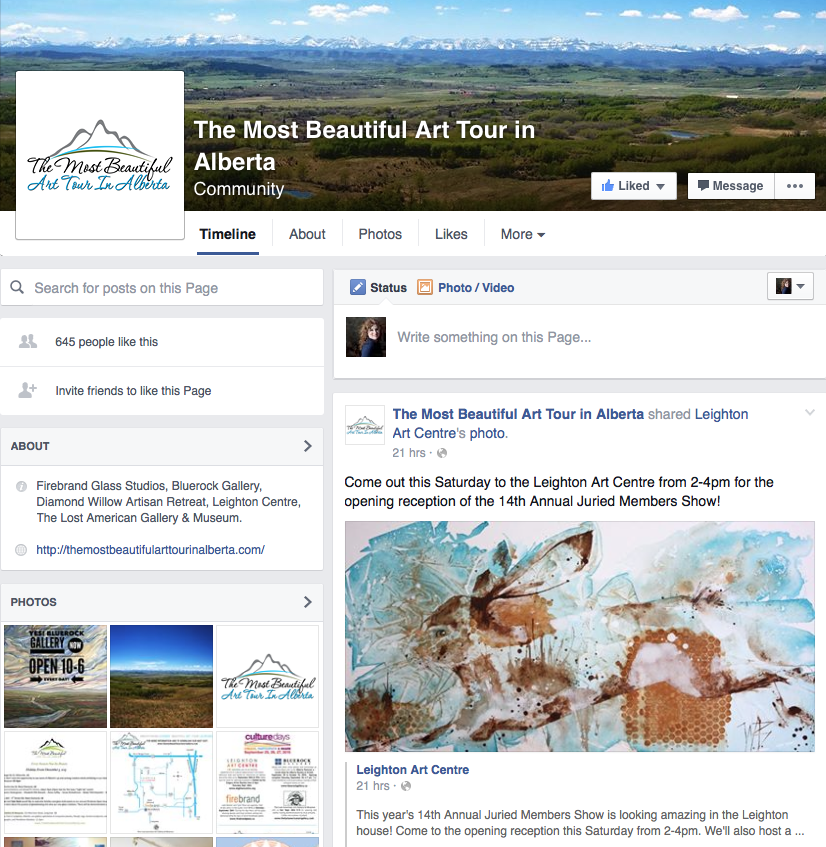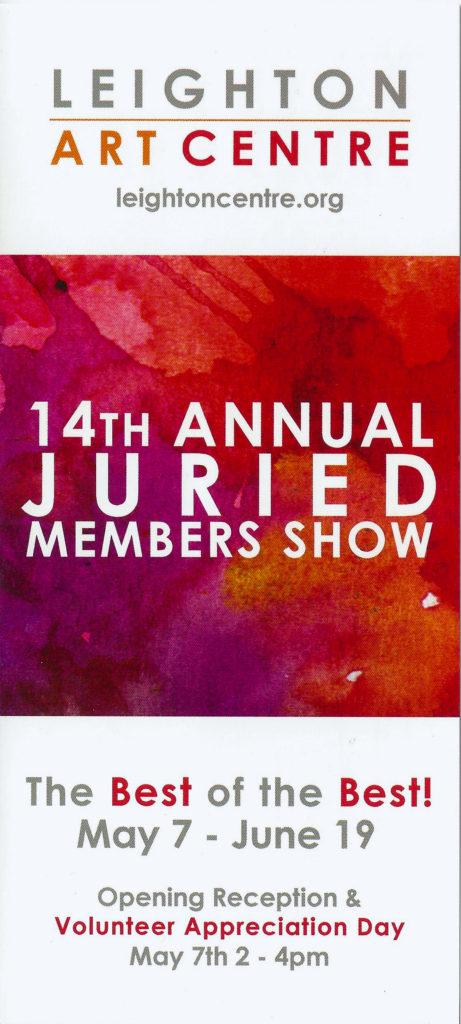 March 15, 2016
---
"Change of Season,"  completed in early March, is a new favourite of mine.  I began with a colour scheme and subject in mind, but painted with chance, a fair amount of risk, and very rarely with a brush.
In this work I enjoy the transluscent glow of water media, lost and found edges, the character of pattern impressions, the push and pull of abstract versus reality, and the colours of the outdoors at this time of year.  The work is an ode to our ubiquitous back-and front-yard residents, snowshoe hare, whose fur changes colour with each season to blend in with the environment.
I can see painting a whole line of these.
While I often paint subject matter in true-to-topic colours, in this case I am also using my very favourite "every day" colours–those of blue spruce,  aspen bark, turquoise lakes, dried grasses, snow, earth, and sky.
update:  this painting has been selected by jury for the
14th Annual Juried Members' Show
"The Best of the Best"
Leighton Art Centre  www.leightoncentre.org
May 7-June 19, 2016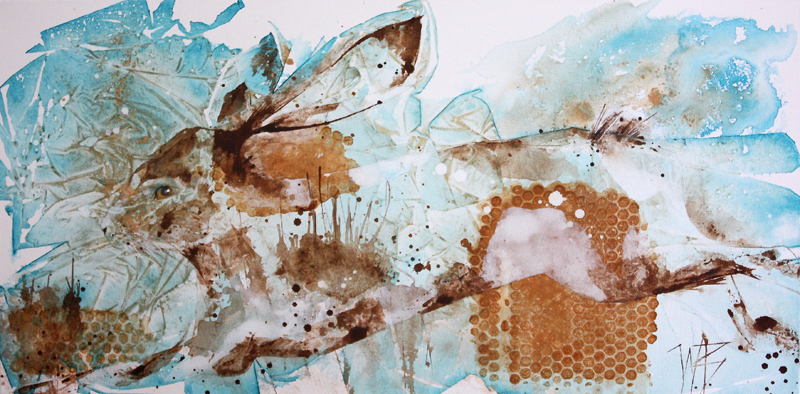 Change of Season
15 x 30″
acrylic on gallery-wrap canvas
detail: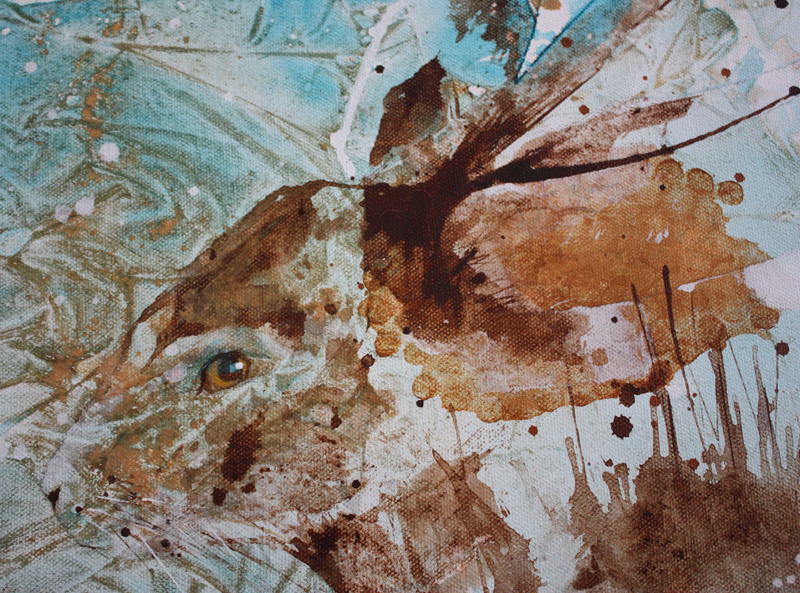 February 23, 2016
---
I am very much inspired by nature and the colours associated with the seasons and thus work in a cyclical, organic way when it comes to subject matter.
Every holiday season I admire poinsettias and think
"I need to paint those."  As mother of three children between the ages of 9 and 16, however, I never have the time in December.  So as of January this year I was eager to begin, using both live specimens and some of my photographs for reference.
I enjoy challenging myself and experimenting with different methods, materials, and sizes (how else to learn what works best).  Having never painted poinsettias before, I began five paintings in succession on four different kinds of supports.  I finished three (two support types simply could not hold up to my mixed-media methods).
I begin with a colour scheme in mind and a general idea of the design, and then let the paint have a voice before directing the process once more.  The experience helps to crystallize for me what I find so magical about painting–forethought and design match spontaneity, chance and nuance.   Semi-abstract images capture the essence of what I love about these flowers, with plenty of room for my imagination.  Texture both literal and implied, and occasionally subtle metallics, add surface interest.  My experiments don't always work out–but they often lead to an end result that I find visually and intellectually more exciting than anything literal.
While I begin with a basis in reality and a knowledge of the flower structure, the end result is created, not copied.  Because each one is completely unique, I enjoyed giving the final poinsettia paintings an invented variety name that suited them.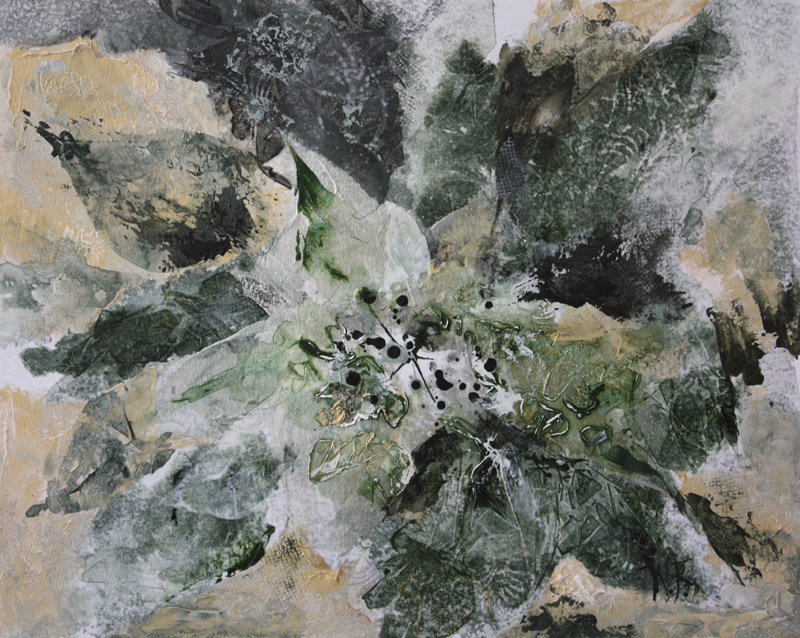 Poinsettia – Linen and Lace
16 x 20″
acrylic and metallics on mixed-media panel
~my first poinsettia painting
---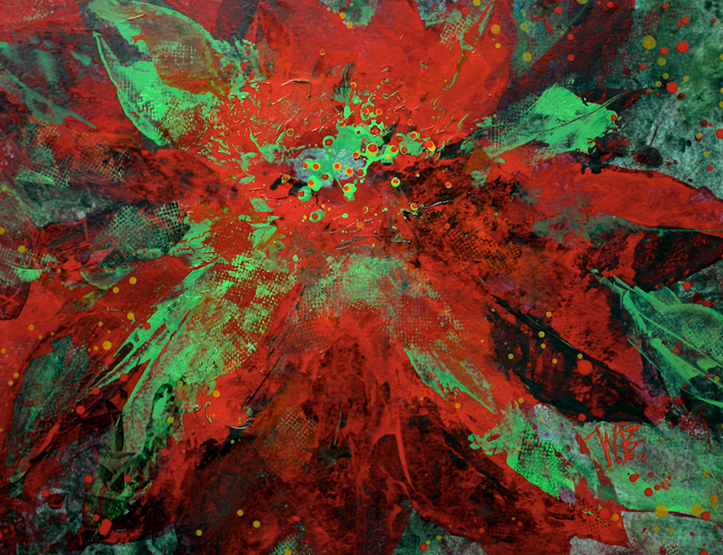 Poinsettia – Feliz Navidad
16 x 20″
acrylic on mixed-media panel
---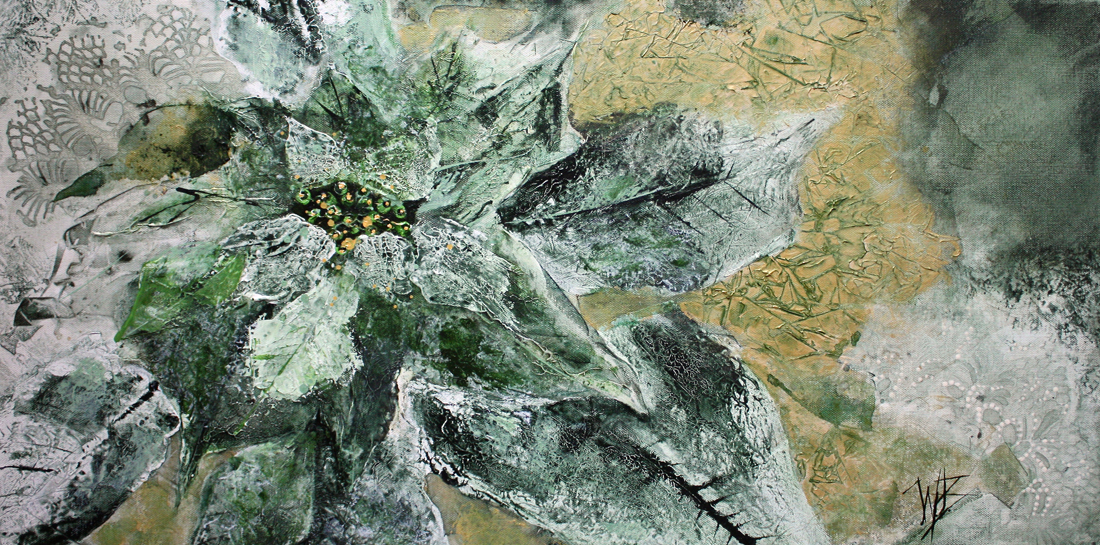 Poinsettia – Evergreen
15 x 30″
acrylic and metallics on gallery-wrap canvas
Update: in early 2018 I reworked this painting into a red poinsettia–"Painted Lady"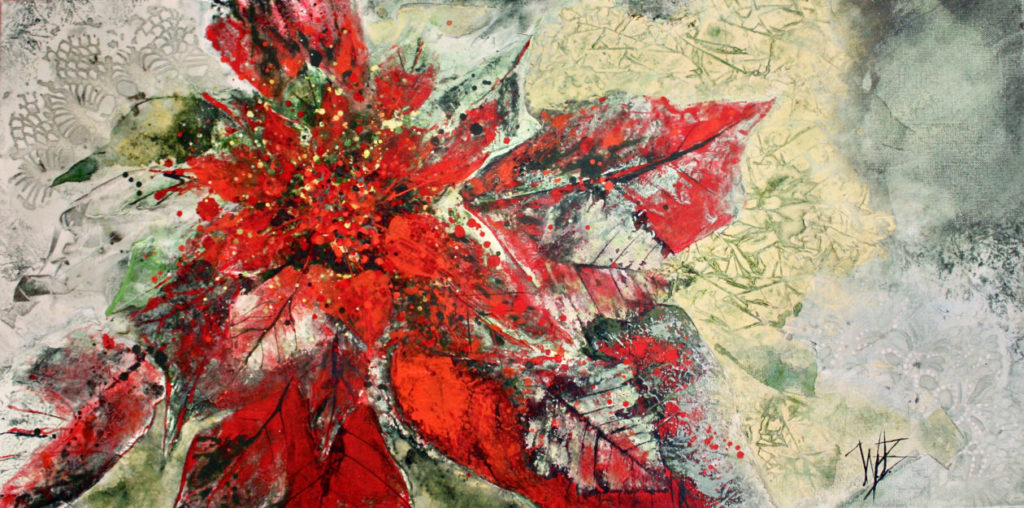 SaveSave
SaveSave
SaveSave
SaveSave