Thirty shows and exhibitions to date; all listed below featured artwork selected by jury.
Current
---
Earth
September 2019-tbd 2020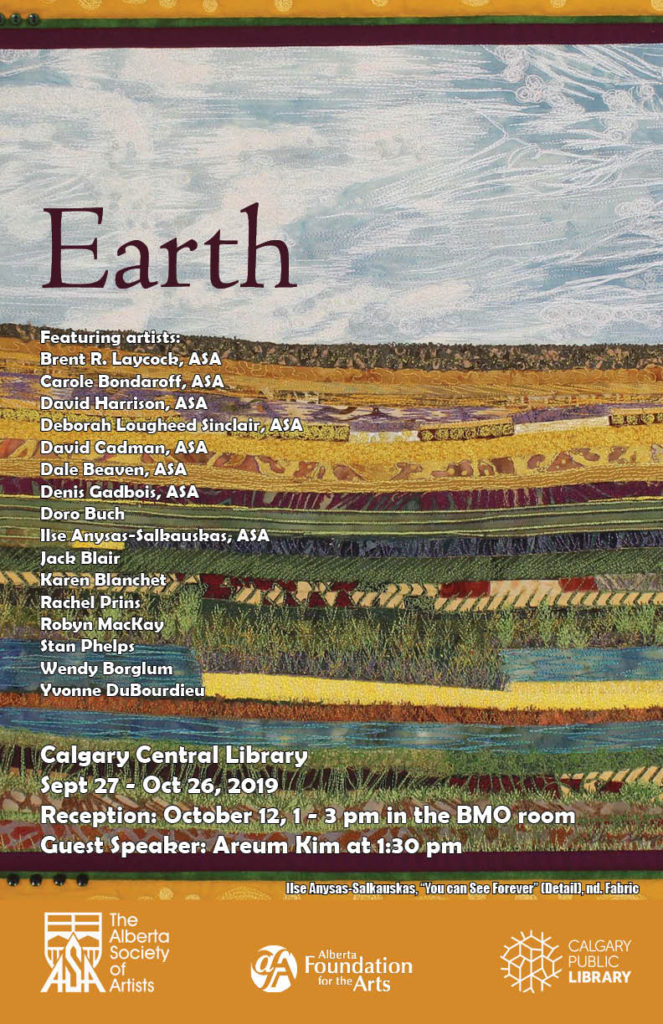 First venue: Calgary's new Central Public Library, opening during Alberta Culture Days, September 27-29, and on display there until October 26, 2019.  Other venues around the province will be posted as information becomes available.
The Alberta Society of Artists invited all artists throughout the province to submit up to two works, for consideration by jury, to this show; I'm very pleased to have two paintings chosen.
Calgary's new Central Library is an architectural masterpiece that was named one of the world's 12 most anticipated buildings in 2018 by Architectural Digest, and named one of the world's 100 greatest places in 2019 by Time magazine.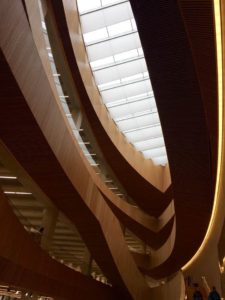 ---
North American
---
2018 Calgary Stampede Western Showcase Art Gallery
Featured Artist–three paintings selected
BMO Centre, Stampede Park, Calgary AB
July 6-15, 2018
Truly honoured that one of my paintings was selected as the advertising and promotional feature image for the entire Art and Lifestyle show: L to R full page ad in Western Art and Architecture, Calgary's Avenue magazine on-line, and the invitations to the opening of the show.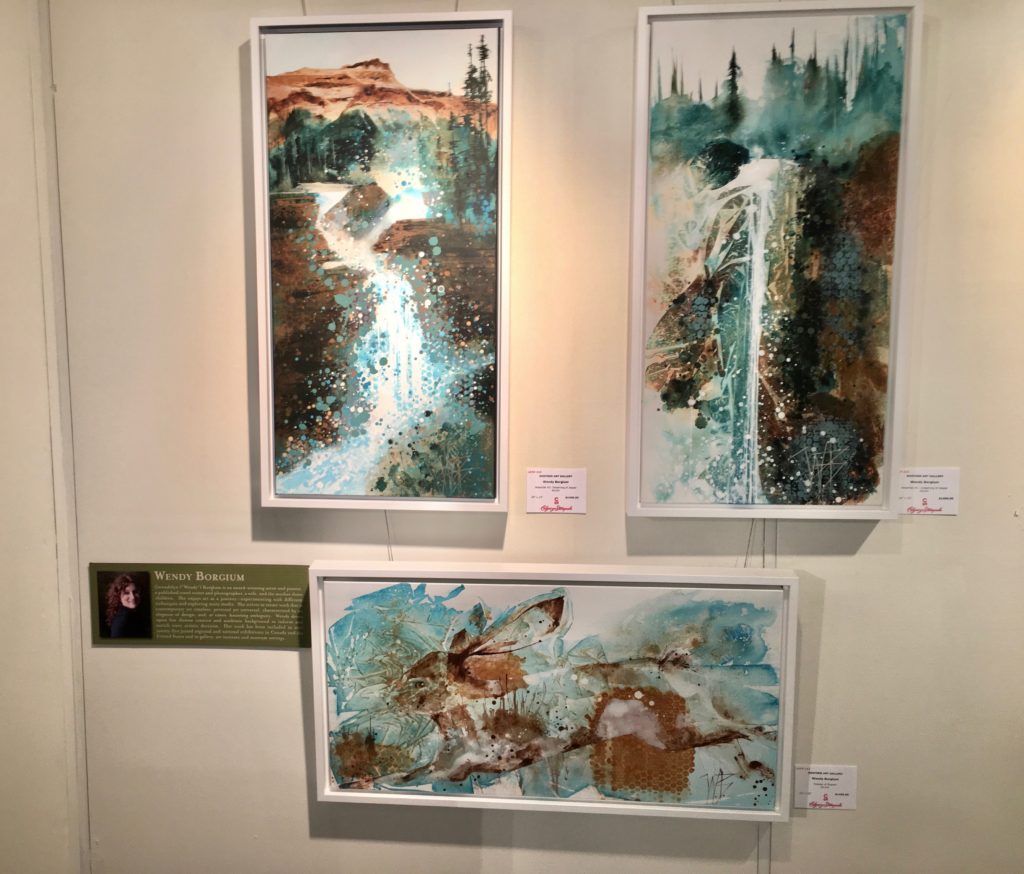 Regional-Canada
---
8th, 9th, 10th, 11th, 12th, 14th, 15th, 17th
Leighton Annual Juried Members' Show
Featuring the best work of select Leighton Artist members
Leighton Art Centre and Museum, Calgary AB
May-June 2010
April-May 2011
April-June 2012
April-June 2013
April-May 2014
May-June 2016
May-June 2017
April-June 2019

My painting "Change of Season" was one of several chosen by the Leighton Centre  and others to promote this show on social media:
Celebrating Alberta


province-wide traveling exhibition sponsored by
the Alberta Society of Artists:
Marjorie Wood Gallery, Waskasoo AB  February-March 2013
Crowsnest Pass Art Gallery, June-July 2013
Visual Arts Alberta Gallery, Edmonton AB January-March 2014
Cando Art Center, Cando, ND, USA  September-October  2014
Northwest Art Center, Minot, ND, USA  November  2014
My art "Mass Start" as featured on an exhibition poster
for Celebrating Alberta: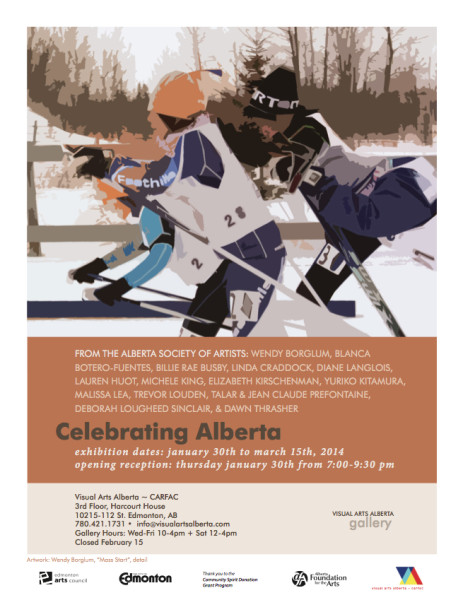 …and as featured on the exhibition catalogue: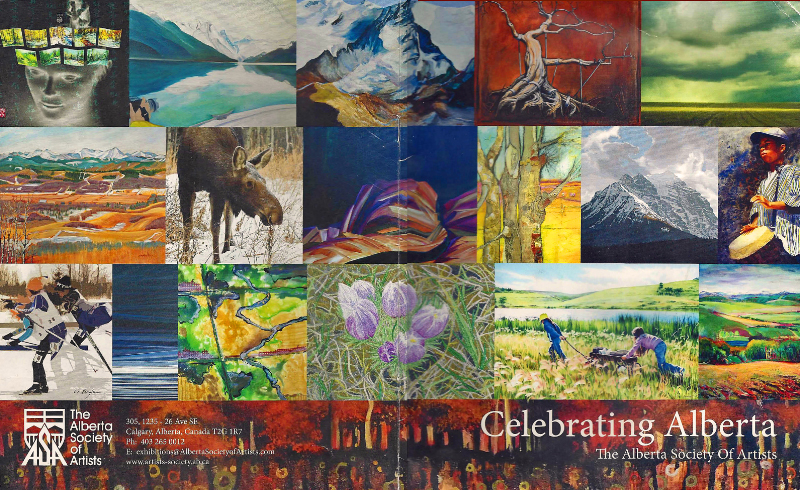 Below Zero


Leighton Art Centre and Museum, Calgary AB


October 2013-January 2014
Small Treasures 2012, 2013


Whyte Museum of the Canadian Rockies, Banff AB
December 2012-January 2013
November 2013-January 2014
Inspired Summer Spectacles


Whyte Museum of the Canadian Rockies, Banff AB
July-September 2012
Inspired by Travel


Leighton Art Centre and Museum, Calgary AB
June-July 2012
The Forest Show


province-wide traveling exhibition sponsored by
the Alberta Society of Artists:
Hinton, Edson, Edmonton and Calgary AB;
featured at McMullen Gallery and Leighton Art Centre
January-July 2011
1st, 2nd, 3rd , 4th, and 5th Cultural Intersection




Art Exhibition


Epcor Centre, Calgary AB June/July 2009
Calgary Municipal Building July 2010
Calgary Municipal Building and Bow Valley College
October 2011
Endeavor Gallery June 2012
Endeavor Gallery June-August 2013
Regional-USA
---
Southwestern Pennsylvania Juried Art Exhibition


Southern Alleghenies Museum of Art, Ligonier PA
October-November 1998
Pittsburgh Progressive Artists Juried Show


PPG Place Wintergarden, Pittsburgh PA
August 1998
People's Art Show


PPG Place Wintergarden, Pittsburgh PA
July 1998
23rd, 24th and 25th Annual Hoyt Regional


Hoyt Institute of Fine Art, New Castle PA
August 1996
August 1997
July 1998
Southwestern Pennsylvania Juried Art Exhibition


Westmoreland Museum of Art, Greensburg PA
September-November 1996
National-USA
---
Metamorphosis: A Juried Exhibit


Constance Lindholm Fine Art, Milwaukee WI
May-July 1997
Award:     Honorable Mention for Best of Show
---
Select Exhibition Venues
---